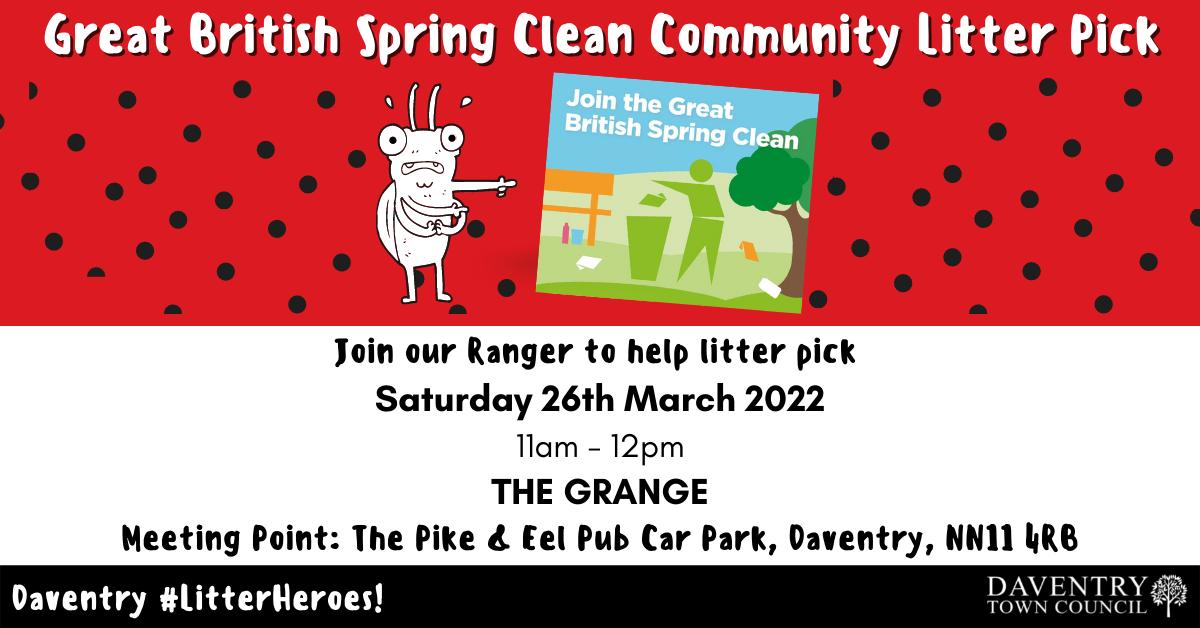 Great British Spring Clean – 2022 Community Litter Pick
𝗗𝗧𝗖 𝗖𝗼𝗺𝗺𝘂𝗻𝗶𝘁𝘆 𝗟𝗶𝘁𝘁𝗲𝗿 𝗣𝗶𝗰𝗸𝘀 𝗮𝗿𝗲 𝗕𝗔𝗖𝗞 𝗳𝗼𝗿 𝟮𝟬𝟮𝟮!
Daventry Town Council is very excited to be relaunching it's Community Litter Picks on 𝗦𝗔𝗧𝗨𝗥𝗗𝗔𝗬 𝟮𝟲 𝗠𝗔𝗥𝗖𝗛 𝟮𝟬𝟮𝟮 and everyone is invited to get involved too…
Continuing our ongoing Litter Campaign, we are thrilled to be back and welcome local volunteers to once again give up an hour of their time, to help us tackle litter hot spots in Daventry Town.
Our litter pick return coincides with The Keep Britain Tidy – Great British Spring Clean Event 2022 and is also a timely reminder of what is good for our environment is good for our mental and physical health too.
𝗗𝗔𝗧𝗘: 𝗦𝗮𝘁𝘂𝗿𝗱𝗮𝘆 𝟮𝟲𝘁𝗵 𝗠𝗮𝗿𝗰𝗵
𝗧𝗜𝗠𝗘: 𝟭𝟭𝗮𝗺 – 𝟭𝟮𝗽𝗺
𝗪𝗛𝗘𝗥𝗘: 𝗧𝗵𝗲 𝗣𝗶𝗸𝗲 & 𝗘𝗲𝗹 𝗣𝘂𝗯 𝗖𝗮𝗿 𝗣𝗮𝗿𝗸, 𝗧𝗮𝗺𝗮𝗿 𝗦𝗾𝘂𝗮𝗿𝗲, 𝗚𝗿𝗮𝗻𝗴𝗲 𝗘𝘀𝘁𝗮𝘁𝗲, 𝗗𝗮𝘃𝗲𝗻𝘁𝗿𝘆, 𝗡𝗡𝟭𝟭 𝟰𝗥𝗕
The pick will be led by our Community Ranger, Charlotte Jones and equipment will be provided if you haven't got your own to bring with you. There is no need to book a spot, just come along on the day,. Everyone is welcome although children in attendance will need to be supervised by a responsible adult.
We hope you can join us on The Grange as we continue to help keep Daventry tidy.