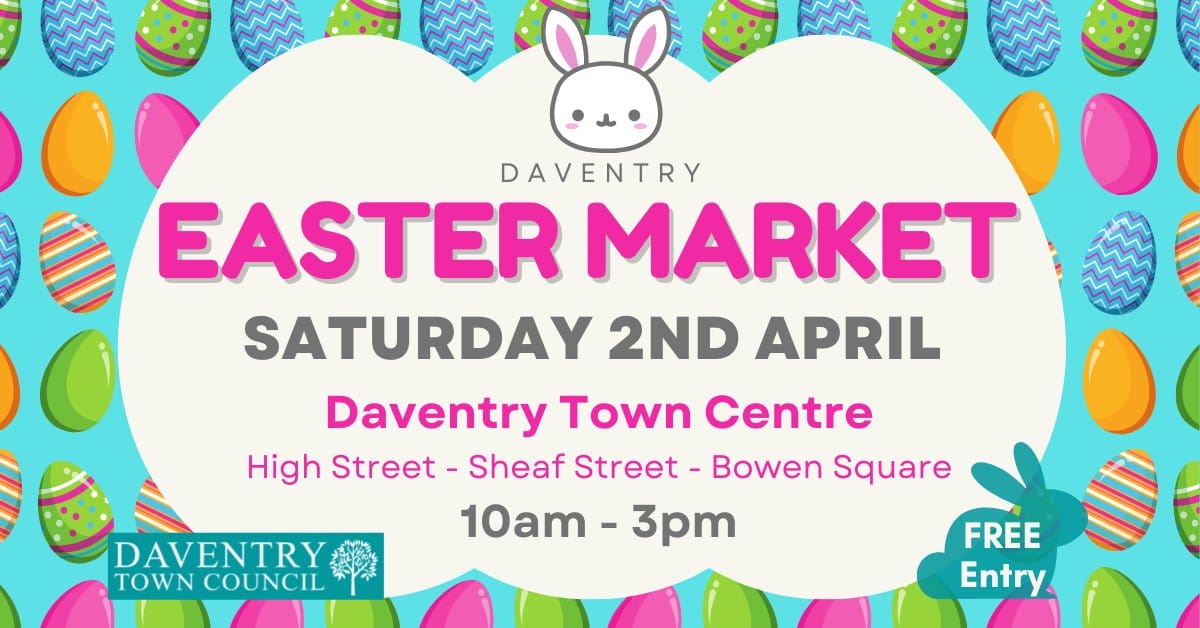 Daventry Easter Market
𝗗𝗔𝗩𝗘𝗡𝗧𝗥𝗬 𝗘𝗔𝗦𝗧𝗘𝗥 𝗠𝗔𝗥𝗞𝗘𝗧 𝟮𝟬𝟮𝟮
Grab your Easter Bonnet & join us for an Easter extravaganza…
Come along and shop with independent stallholders, selling unique gifts and crafts or yummy hot food and drink to help tantalise your taste buds.
We will have an Easter Trail, face painter and balloon modeller for all to enjoy, as well as various festive family entertainment.
Best of all the activities are FREE and everyone is welcome!
– 𝗪𝗛𝗘𝗡: Saturday 2nd April 2022
– 𝗧𝗜𝗠𝗘: 10am – 3pm
– 𝗪𝗛𝗘𝗥𝗘: Daventry High Street, Bowen Square, Foundry Walk & Sheaf Street, Daventry
– 𝗘𝗡𝗧𝗥𝗬: FREE to come along to and Family Friendly
– 𝗣𝗔𝗥𝗞𝗜𝗡𝗚: There are various car parks around the town and parking is FREE!
So bring the whole family along for some fun festive!
The High Street and Sheaf Street will be closed on the day and stalls will be spread out along the whole of the High Street, up Sheaf Street, along Foundry Walk and Bowen Square.
Please remember:
– Be Kind and remember to keep your social distance
– You are advised not to attend if you are shielding, self-isolating or have Covid-19 symptoms
– Follow the latest government guidelines relating to covid-19
This market is funded and organised by 𝗗𝗮𝘃𝗲𝗻𝘁𝗿𝘆 𝗧𝗼𝘄𝗻 𝗖𝗼𝘂𝗻𝗰𝗶𝗹.
PLEASE NOTE: Entertainment, activities, stalls and products are subject to change without prior notice.
See less